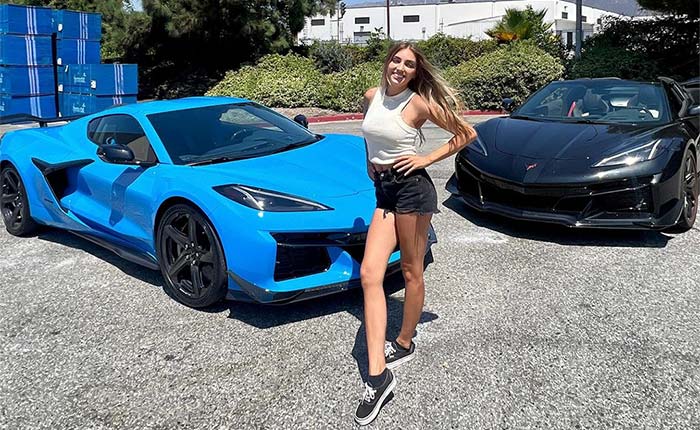 For all the flak that YouTubers and influences get for being the first to drive the Z06, it's videos like this latest from Emelia Hartford that show why it's a winning strategy for Chevrolet to embrace these content creators.

Emelia refers to the people in this video as her 'supercar' friends, and she manages to capture their very first impressions of riding in America's newest supercar. As fellow supercar owners, you would expect them not to be so wowed by supercar performance, but those initial reactions tell you everything you need to know about the new Z06!

Emelia has had the opportunity to drive both the Black and Rapid Blue Z06 press cars, and she says she is still barred from sharing her "driving impressions" with the cars. The good news is that hasn't stopped her from producing said videos, and we should expect several to drop once the embargo is released.

In this new video, however, she may have found a potential way around the embargo just by giving some rides to her friends and then watching their reactions to the exhaust revs and street pulls.

One of the main reasons that we've been waiting for the car to be driven by someone like Emelia is that a YouTuber/influencer will drive this car a whole lot different than a GM rep. Just seeing the reaction to the revs tells us that this exhaust can be even louder than some of the tamer demonstrations we've heard. And once these cars are in private hands, we'll then start to see them pushed to their limits and learn about any drawbacks or deficiencies. According to the latest Z06 production news, we could be just a few weeks from that starting to happen.

Here is Emelia Hartford and the 2023 Corvette Z06:

Source:

Emelia Hartford


Related:

[VIDEO] First Drive for Emelia Hartford as She Receives First Corvette Z06 Press Car

[VIDEO] Emelia Hartford and Her Twin-Turbo Corvette Stingray Race a Helicopter

[VIDEO] Emelia Hartford On Her World Record Breaking C8 Corvette Stingray