[ad_1]

Labor isn't planning on raising taxes, he says, but to grow the pie. "Our objective is to grow the GDP. That's our objective," he says.
He's not concerning himself with polls, Albanese says (they always say that). He says he's concerned with history and the fact Labor has only won government from opposition three times.
Another accusation levelled at Albanese by his enemies is that he's from the left faction of the party. He's asked if he'll be one of the more left-leaning prime ministers Australia has had. He says:
I am who I am. I am a working-class lad from my background, I've been shaped by it, I am someone who I believe is very much in touch with mainstream Australia. I'm comfortable in a boardroom and I'm comfortable in a pub.

I would say there is no one in the parliament who has closer credentials and more friends in senior members of the business community than myself on either side of politics.
A pretty personal question about Albanese's partner Jodie Haydon and whether she's prepared for a shift to the Lodge. He does a fairly neat segue to the Easter Show:
Jodie was keen and I told her I was going to the Easter Show and she was keen to come. So she is an independent woman, she will come to some things on the campaign but I have to say, it was really enjoyable, mixing with people. As someone who grew up in the city, I love going to the Easter Show. Talking to farmers, engaging with people as you do and the only danger today I think was the camera crew tripping over a sheep or a goat or a duck as we went through, because they were all free range there at the Easter Show, but it is a great event and it was really enjoyable and it was fantastic to talk with people, and I have to say just like the reception I have had right around the country, it was very positive, and they were very cute pups!

The only danger was either Jodie or myself running off with one of those beautiful little pups. But when I did go home, my dog … could smell that I had been cheating with those little puppies.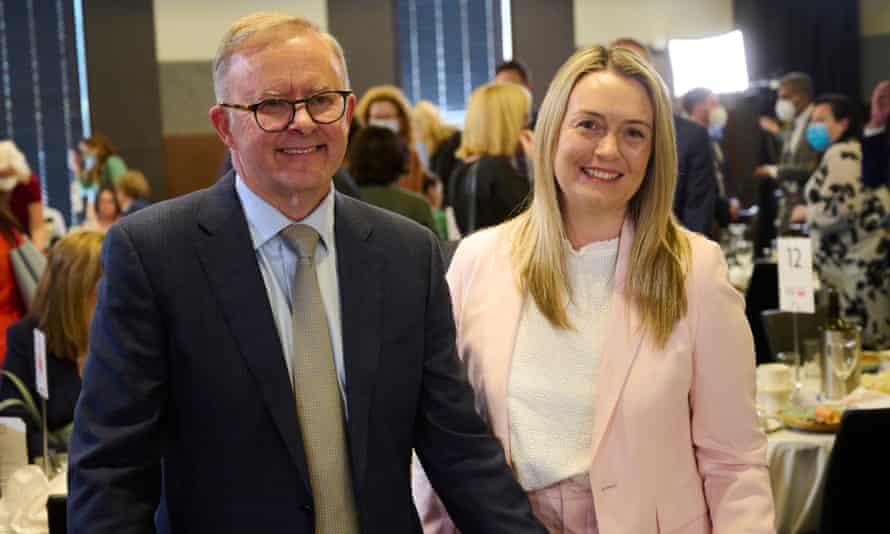 Albanese is asked if he'll make the campaign about Morrison's leadership, and he says Morrison's team is already doing that job with their free "character assessments". He also defends himself against Morrison's criticism that he doesn't have enough experience, calling them "quite frankly absurd attacks":
My experience is I've been acting prime minister, I've been deputy prime minister, I chaired the parliamentary business committee for six years. So every piece of legislation that went through under the Rudd and Gillard governments I presided over, over the management of that, including presiding over, in a minority parliament, working with people in what is now the government, the opposition and the crossbenches, to successfully bring people together.

If you look at my record, you don't have to theorise whether I can work with people or not. The whole experience as a minister for infrastructure, transport, regional development, local government, communications and other portfolios was creating models that brought people together. The Infrastructure Australia model being the best example of that. One that has been undermined by the appointments that have been made by this government but nonetheless which have remained intact. Bringing together business and the private sector to work with the public sector arm in arm to create a better future. That's the model that I would work on, the Australian council of local government, bringing together 560 fellow mayors and shire presidents, bringing them together so that decisions were not made in Canberra, they were made in local communities about what the local communities priorities were.

Not the sort of colour-coded spreadsheets that we've seen, based on marginal seats, for this government. And, of course, regional development Australia, that I created, which is still in place, to set up regional economic plans.
Policies of cheaper, cleaner energy which will drive the creation of new industries and new jobs through our National Reconstruction Fund, based upon the Clean Energy Finance Corporation model that this government tried to abolish. We will train Australians for those jobs. We will have a policy of lifting people's wages through the changes that we announced now, almost two years ago, for industrial relations.
Making sure that secure work is an objective in the Fair Work Act. Properly defining casualisation. Having the same job, same pay. Making wage theft the crime. Closing the gender pay gap. We have outlined a series of policies for the election. Mr Morrison has not outlined any agenda for another term.
And, quite frankly, he has suffered during this term from the fact that he sailed through the 2019 campaign … it's not good enough to say that you want a second decade in office without putting out exactly what your plans will be. What we know is, from this government, because it's in their DNA, but it is likely to involve cuts to services.
Cuts to education, cuts to health, cuts to a range of services that Australians rely upon. And we know because we don't have to theorise what their attitude is towards cost of living because all of the measures that they have brought in all expire as soon as people have cast their vote.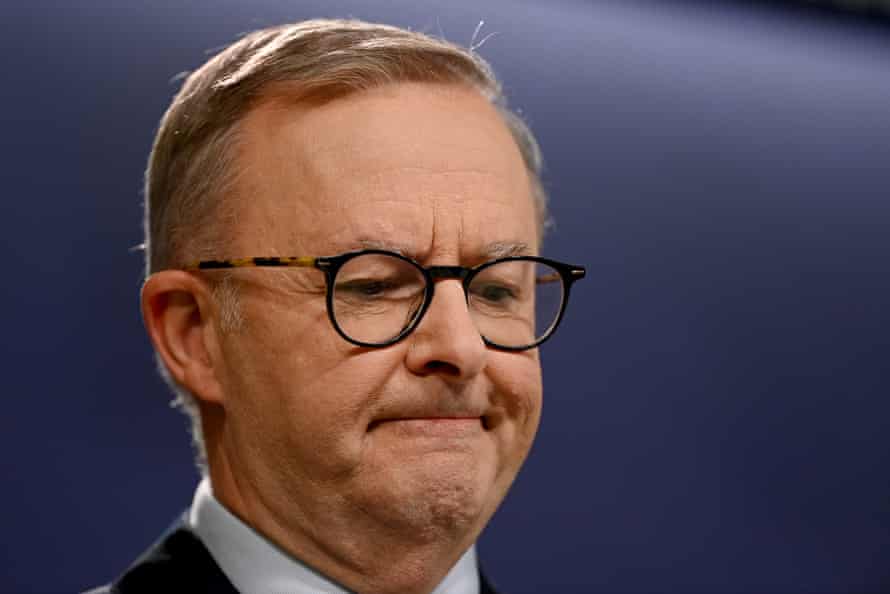 Albanese is asking about costing his policies. He says "we put dollars on our policies" and says Morrison "has not outlined any agenda" for another term. On climate change, he says:
We were asked what our 2030 target would be and I said very early on that we would declare that after the Glasgow conference and after the government released a policy and we have. It's just one example of the most comprehensive, fully costed plans for any policy, any opposition has put forward since federation. That outlines 604,000 new jobs to be created, $52bn of private sector investment, five out of every six of those jobs in regional Australia.

A plan that will see a 43% reduction by 2030. Our aged care plan that was a part of my budget reply has a cost of $2.5bn over the forward estimates. Our child care plan is fully costed, our National Reconstruction Fund is out there for all to see. All of our policies that we've released have been fully costed, whether it be the National Broadband Network, whether it be the funding for blackspots, the regional housing program, the housing Australia future fund. And there is another example, $10m to be put in a fund that will be invested of which the interest will be used to create 30,000 affordable and social housing units over a period of time, 4000 of those quarantined for women and children escaping domestic violence.

We will have more… we will put out more information over the campaign about the multinational tax changes we will propose.
A contrast to the very snappy press conference with prime minister Scott Morrison earlier – Albanese says he'll give everyone a go to ask a question. He's asked if the six-week campaign will be a "grind" (Morrison said earlier today he recognised people were tired of politics.) Albanese says:
This is a prime minister who … declared that he was campaigning and not governing. He has done that himself. All of the photo ops you have seen that you would normally see during an election campaign from this prime minister, he started early, whether it was sitting at car racing in Bathurst or shampooing a young woman's hair or playing the ukulele or sitting in a fighter jet, we have seen it all.

The problem for this government is that it has stopped governing some time ago. I think that Australians want a government that does its job. It doesn't always blame someone else, it accepts responsibility. I am putting forward a constructive alternative, as well as saying that I think that a government seeking a fourth term in the second decade in office, is this really as good as it gets? What we have seen from this government over that period of time, there is a whole lot of their talented and most competent people left. It's one of the things that explains the incompetence that we've seen in simply managing portfolios over recent times.
He goes on to say it's "embarrassing" that health minister Greg Hunt is leaving and no one knows who the next potential health minister might be.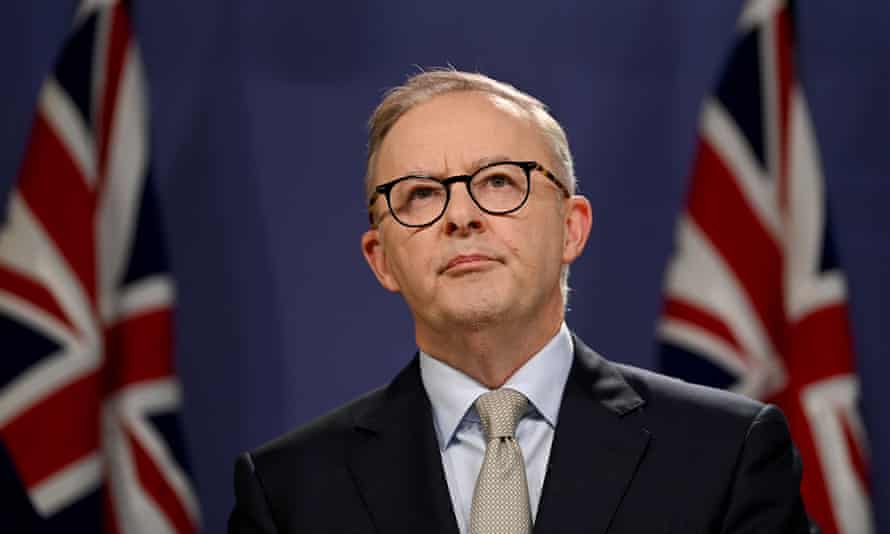 Albanese has used a question about his frontbench (they'll hold the same positions they hold now) to take a swipe at Morrison's frontbench and the confusing situation with Alan Tudge (see below). He says:
What I found extraordinary earlier on today was the prime minister's statement that Alan Tudge is still the education minister. Well, it just shows the chaos that is there, even when people step aside, they've still got the job. The prime minister cannot say who the health minister will be. The truth is that my frontbench are already contesting at this election. There is not one disappearing. There is no one withdrawing. And my frontbench, I have absolute faith in and I would expect the starting point would be that they would maintain the same position is that they hold now.
05.02
'Australia is ready for a better future,' Albanese says
Some highfalutin talk here:
I will accept the responsibility that comes with high office. I will lead a government that repays and rewards your hard work. A government that reflects the decency and compassion and courage of the Australian people. I am humbled to put myself forward as prime minister of this great nation.
Followed by Albanese's origin story:
I grew up not far from here in Sydney and public housing, the son of a single mum. I learned the value of a dollar, I learned the importance of resilience. But I also learned about the strength of community and the power of government to make a difference to people's lives. That experience of overcoming adversity and filling my mother's dreams for building a better life that she enjoyed, it took me into politics and it is what drives me today. It feeds my optimism about this most extraordinary country of Australia.

Today, I say to my fellow Australians, this is our time, our time to seize the opportunities that are before us, our time to create a better future where no one is held back and no one is left behind. I ask for your support on the 21 May for my team. I am ready, we are ready, and Australia is ready for a better future.
[ad_2]

Source link