[ad_1]

Key events:
Penny Wong's meeting with Chinese counterpart is not 'a reset', expert says
Richard McGregor, a senior fellow for East Asia at the Lowy Institute, is on ABC radio discussing Penny Wong's sideline meeting with her Chinese counterpart, Wang Yi, in Bali today.
McGregor says although it's significant the two sides have not had a meeting of this kind for nearly three years, it shouldn't be thought of as a reset.
It may stabilise the relationship as Penny Wong said. It's not a reset, because a reset implies that we're going back to where we came from, and I don't think that that is the case.
He said the fundamental differences, including the situation in Taiwan, remain between the countries and are "certainly" not going to change in one meeting.
Australia has doubled down the US alliance and you can't simply wiggle out of things like that to improve relations with China.

But talking to China I think is a good idea. Stabilising the relationship is a good idea. There are some things that we can talk about – about trade, about the environment, about green hydrogen, about climate change. But we have to get back to the table and re-develop at least a baseline of trust before we can do any of that.

Obviously, on the Chinese side, there's some things that are – I don't want to put it like this – but that they have up their sleeve diplomatically. Penny Wong talked about the imprisonment of Cheng Lei. And a second Australian in prison in China on national security politically related charges. You won't see them let out of jail just like that.

They would have to be convicted first, and then perhaps let out on humanitarian grounds. That could be considered to be a gesture by China and accepted by Australia. In Australia's case, you might see a modification of language on some issues. You might see greater willingness to accept Chinese investment.

This is an evolutionary process. It won't happen overnight.
Dutton confirms US holiday amid criticisms of PM's Ukraine visit
Peter Dutton has confirmed, via text message with News.com.au's Samantha Maiden, that he is on holiday "in the United States".
(And not in Hawaii, where former prime minister Scott Morrison spent his holiday when the Black Summer bushfires began.)
As we reported earlier in the week, Dutton's trip comes at the same time that the prime minister, Anthony Albanese, faced criticism from Coalition figures for travelling overseas – on an official visit to Ukraine:
Queensland records 13 Covid deaths and 714 in hospital
There were 5,726 new cases in the last reporting period, and 17 people are in intensive care.
We just heard from Perrottet and Cooke about the astounding aerial views of how flooding has transformed the Maitland region. Take a look for yourselves.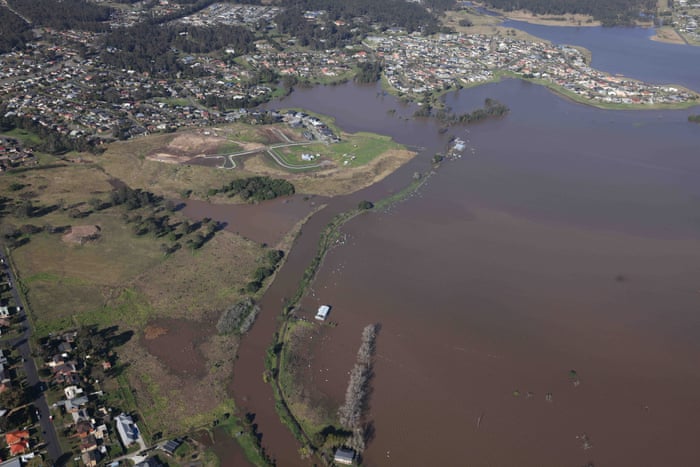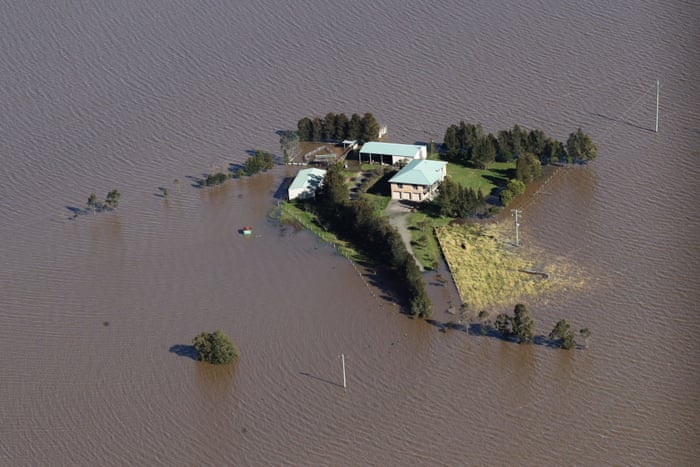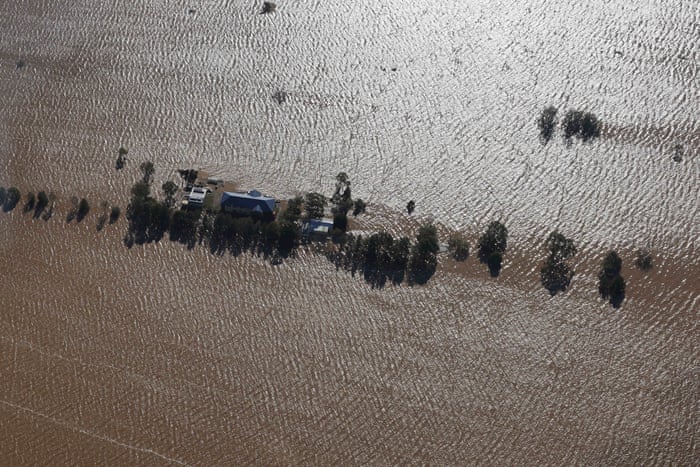 Perrottet addresses rail union dispute
Perrottet is being asked about the rail union dispute:
He has denied it will be embarrassing for his government if the union win, saying his focus is "on the people".
I want the trains on the tracks as quickly as possible.

The government had no choice but to proceed to the Fair Work Commission.
Perrottet says the government will respect whatever decision comes out of the Fair Work Commission.
NSW government wants raising of Warragamba Dam to be completed
Perrottet has reaffirmed that the state government want the raising of the Warragamba Dam to be completed.
When asked about the price tag he said it would be "in the billions".
Perrottet said the previous government were supportive of the 50/50 funding split between state and federal government for the project, but said the current government has also shown interest.
He said the project has been in the "too hard basket for too long", but it's critical to protecting communities continually affected by flooding.
Here's a story on the issue from back in late March:
Maitland community update
Jenny Aitchison, the state member for Maitland, is speaking about the situation for her community on the ground:
Maitland is a resilient community, this is where the SES was born in 1955.

Flood mitigation scheme has really helped our community to get through this without major damage so far to homes and properties but there are a lot of farmers who will be seeking help and counsel is already flagging roads and, of course, the state roads network is really damaged.
Aitchison and Damien Johnston, the deputy SES commissioner, has reminded people in affected areas that although the sun is out and shining, flood waters still pose danger.
Johnston said river and flood levels are still high, and those who have delayed their holidays should show caution.
NSW moving from emergency response into recovery phase
Steph Cooke, the state minister for emergency services and resilience, is providing more details about the transition from an emergency to recovery scenario:
We are starting to see those floodwaters recede but of course, there is a lot of water lying around.

The premier and I have the opportunity to see it from the air. The landscape is absolutely saturated, the creeks and rivers are still incredibly swollen.

There is widespread inundation and it really does highlight the task ahead for us now so we are really moving from that emergency response scenario into recovery.
Cooke said the expansion of natural disaster declarations will enable communities to get the government support they need:
The number of natural disaster declarations has increased from 23 to 29 with the addition of six overnight, working in partnership with the federal government, to make sure that as the weather event moves through and we become aware of areas and local government areas that are impacted, that we do move quickly to make those natural disaster declarations.

So that is the first step in terms of unlocking support for those communities. As we go forward, as more local government areas are able to be assessed, and we are aware of damage, we will move to make further natural disaster declarations together as required.
Dominic Perrottet gives update on NSW floods
NSW premier Dominic Perrottet is in Maitland giving an update on the flooding in the state.
Currently today, we still have 67 evacuation orders in place, 22 evacuation warnings that are impacting about 47,000 people across New South Wales.

There are a number, 75, return with caution to homes that is affecting about 50,000 people across NSW.
He thanked the volunteers who have come from across the country from as far as Alice Springs to help, as well as the other state premiers who had offered assistance.
There is no country in the world that has what we have in terms of that spirit of service, that high level of volunteerism and the people who put their own lives on the line to get people through and I think that's a wonderful and phenomenal thing about our state and something I'm incredibly proud of.
Perrottet said a helicopter ride this morning had allowed him to see the extent of the damage.
Dropping of prosecution against Bernard Collaery has 'restored the rule of law', expert says
Geoffrey Watson, a senior counsel and a director of the Centre for Public Integrity was on the ABC earlier this morning reflecting on the Australian government's actions in 2004 bugging of the cabinet office of Timor Leste amid negotiations over gas and oil, in light of the news the prosecution against Bernard Collaery has been dropped:
I do think it was that one of the most disgraceful moments in Australia's conduct of international affairs since the second world war.

It is stealing the assets of one of our closest geographical neighbours but also one of our closest political friends. Also, as you said, it is an impoverished nation. We are stealing from a nation with people less than ours. I thought the whole thing was awful.
Watson says the authorities of the day, who pursued this action against Bernard Collaery, were "legally speaking" in the wrong:
Legally speaking, they were wrong, but they were politically foolish. It is absolutely appalling. I remember during the height of the Cold War how we would hold ourselves morally superior to the Soviet Union and one of the things we would say is can you believe it, how do they conduct these criminal trials in secret?

Yet, here, Australia starts taking the same approach. This basal notion of the way that justice should be dispensed and the way public should be engaged with the issues, behind the conduct of the government. It was just a terrible moment.

Also politically stupid because the fact is it did not need to happen. Mr Brandis, attorney general had this brief initial for a very long time and carefully did nothing with it. Christian Porter thought better of that and started this. Then we had attorney general Michaelia Cash do nothing about it. Can I just say thank you and congratulations to Mr Dreyfus, the new attorney general, for having the courage act. It would have been easier for him to do nothing. This is what I expect from him. He was a lawyer and top-level barrister and he was a man who presented arguments, a lucrative legal practice which is surrendered, really grateful he has restored the rule of law in Australia.
Asked about the precedent it sets for secrecy:
Oh, dear! This should never happen again. We should never been a position where we have these kinds of appalling secret trials. If someone presented this as an outline for a novel, 10 years ago, I would have said they were never publishing that. It's just absurd, they didn't do that in Australia. Imagine conducting a trial in secret. We still do not know the name of Witness K and what's more, he cannot tell us.
Watson also added his name to those calling for an inquiry into the matter:
Asked about whether there should have been a prosecution of Witness K who ended up with a three-month sentence, he said:
It comes back to this. What we did when we barred those premises and it was so carefully planned and put in place, it was complicated, they put it in place for the head and it was a thoughtful, deliberate piece of planning. That was a disgraceful act. I want to praise Witness K for coming forward, to do what he did to try to expose this because we would not have known about it otherwise, and I thank Bernard Collaery for his involvement and encourage that. I go step further and say the matter should not be left here.

I'm not the first to do this but I wish to add my name for those who have called for an inquiry to be conducted into who either ordered, or approved this at a political level. It is different to dealing with spine, where they are following orders. I want to know what was at a political level, who either encouraged, ordered or approved this disgraceful thing! Listeners need to know the story of how awful this was in the way we went about it.


[ad_2]

Source link